Hospital immersion
Shared coworking spaces in hospitals environment

Our hospital immersion was born from a simple observation: to develop effective health solutions that meet a market need, we must focus on the market itself, and not on technologies. Hybrid, our approach is a combination of observation, discussion and impregnation of care paths and health products use, to then define the most agile approaches to meet the identified needs.
The ability to dialogue with the different worlds of hospitals, entrepreneurs, academics, investment, and large groups gives us a unique opportunity to contribute to the ecosystem with a specific point of view.
Come and join this hospital immersion movement to better develop health products which meet real needs, are adapted to patients and users, making it possible to write strong, attractive, and ambitious investment thesis.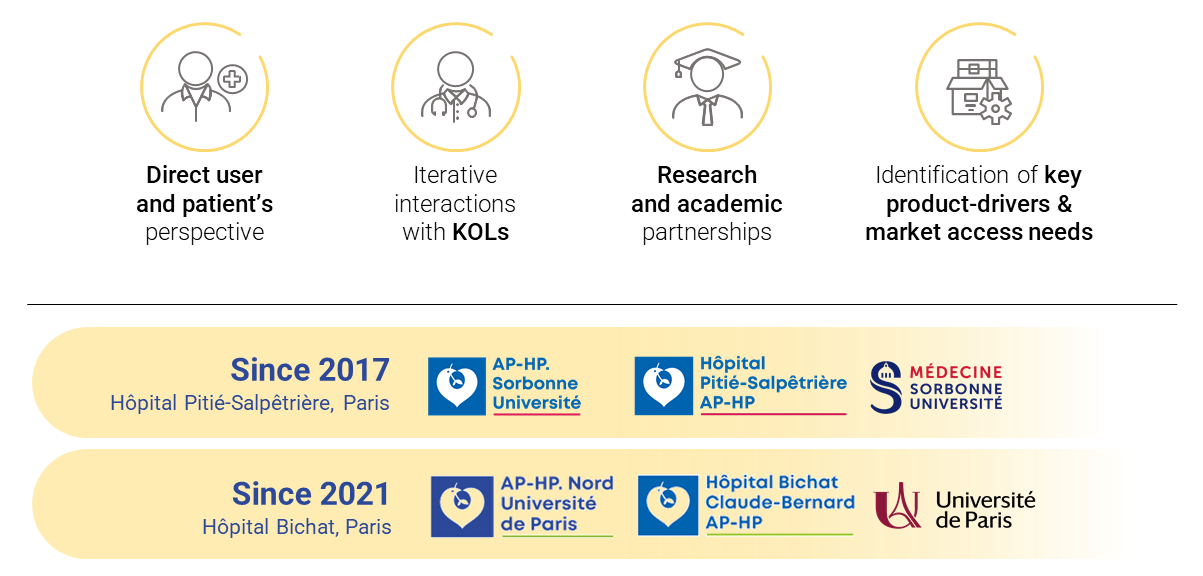 For Entrepreneurs, the shared workspaces offer:

Proximity to paramedical staff and physicians

Online booking for a variety of spaces by hour, day or month, no minimum required

Bookable meeting rooms and terrace areas

Services included: Coffee and tea, internet, smiles, photocopy equipment, abundant sweets, equipped kitchen & relaxation area
+

Up to 4 persons

+

Wi-Fi

+

Nespresso coffee

+

Multifunction copier
+

Up to 8 persons

+

Wi-Fi

+

Nespresso coffee

+

Multifonction copier
+

Up to 30 persons

+

Wi-Fi

+

Nespresso coffee

+

Conference equipment
Amphitheatre
+

Up to 120 persons

+

Wi-Fi

+

Nespresso coffee

+

Conference equipment